A Complete Buying Guide Of Cheap Water Pipes For Sale
Wednesday, 22 September 2021

2

442

0
A Complete Buying Guide Of Cheap Water Pipes For Sale

Are you on a tight budget but don't want to settle for a simple basic looking bong? Most people hear cheap water pipes and think of rinky-dink, gas station bongs that taste terrible, look horrible, and break easily. With the improvements in technology, skilled glassblowing becoming more willingly available, and higher demand, reliable glass bongs can be found for very reasonable prices. All different styles and designs can be found, featuring percolators and materials that were hard to find in the past for anything less than a fortune. We here at WD420 Glass know customers come from all monetary backgrounds and in these times, affordable water pipes are key for any level tokers.

So don't worry, there are lots of high-quality bongs under $50 and we've rounded up the best of the best. Our affordable bongs are some of the most popular because there are so many different shapes, sizes, colors, and features to pick from. A cheaper price doesn't always have to equal low quality. Nearly all of our bongs are made with thick, heat-safe borosilicate glass that is made specifically to handle extreme temperatures. With cool aesthetics and high quality, you'll never guess that these herb bongs are so affordable! Let's take a look at some of our most popular bongs for under $50.
One important thing to keep in mind when deciding to buy a water pipe is a good quality option doesn't have to be an expensive purchase. There are actually many great options out there that we've uncovered a bunch of water pipes under $50. Sure there are some that are a bit more, but you never know when they're going on sale. They may not last quite as long as our list of the best of 2021 but you won't regret purchasing one of these perfect bongs. Buy yourself some happy!
Herebelow these are must have selection of cheap water pipes for sale:
1.

Cool Catoon Theme Rick and Morty Beaker Bong
This mini dab rig Features ice catchers and included a funnel bowl, this piece is the perfect personal daily driver and the beaker design makes the bong piece easy to clean. There are Rick and Morty cartoon decal covered around the surface of the small bong tube, so if you are a fans of rick and morty, this mini dab rig would be your favorite choice!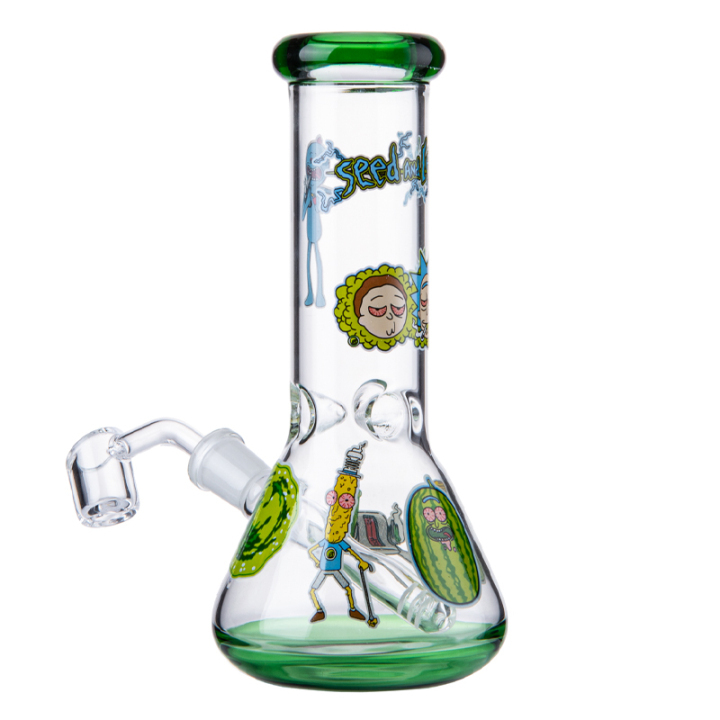 2.

Cute Cheap Pineapple Fruit Water Pipe Bong
Hungry? Thirsty? Smokegry? Hit this 8" Pineapple Bong and enjoy the sweet flavor of your favorite herbs or concentrates. Send this awesome Pineapple bong to a fruit loving friend or keep it at home for yourself. This fun piece is great addition in any collection and is sure to be a conversation starter in any sesh it powers.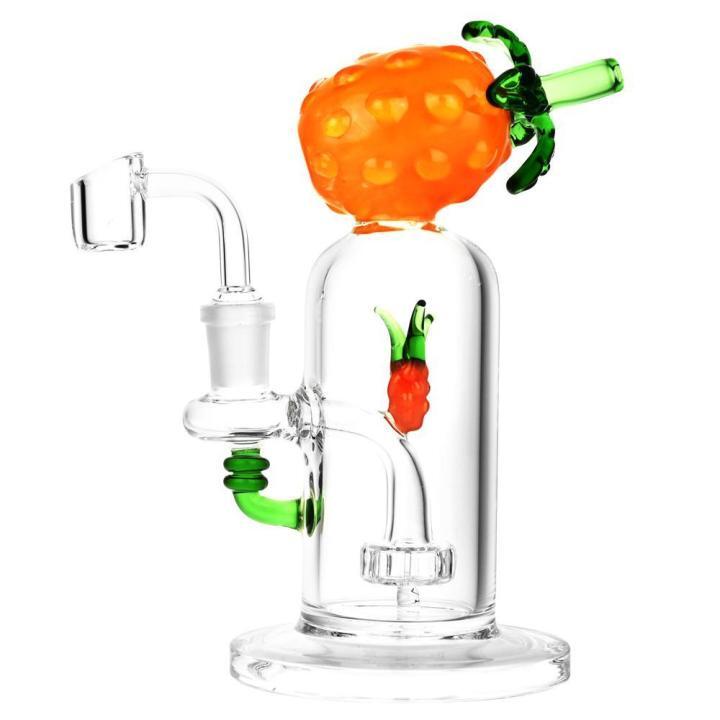 3.

8 Inch Pyramid Cone Perc Mini Dab Rig
This stunning piece has a great shaping to it and is perfectly accented by two different color choices of green or purple. This scientific dual-function glass bong is both easy on the eyes and easy on your wallet, measuring 8 inches tall for the ideal balance of size and power. Inspired by a classic Klein recycler, the Pyramid Cone Perc Bong features a beaker base design with double Maria rings on the neck and a fixed 14mm female joint with a horned drop-down chamber. The beaker base houses a colored pyramid percolator that effectively filters your smoke through water before it can travel upwards through the body. It includes a 14mm male bowl piece with matching colored accents for your dry herbs, while the 90° joint combined with the included 14mm quartz banger nail makes this water pipe great for dabs too!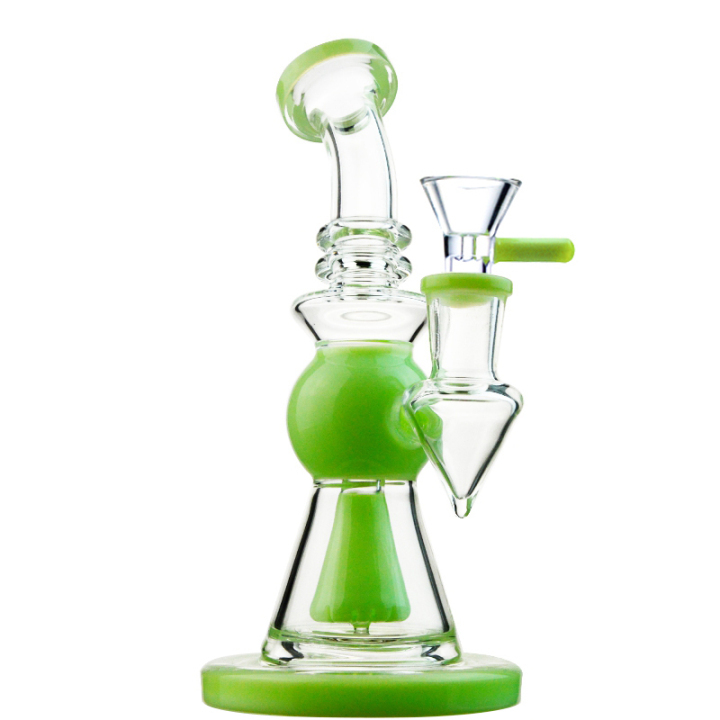 4.
Cheap Classic Tornado Cyclone Water Pipe Bong
This tornado cyclone water pipe will blow your mind! The spiraling, spinning, tornado action is straight up mesmerizing. Thanks to its unique turbine percolator and buoy base design, this pipe forms an incredible water funnel effect that'll have the smoke still spinning as it hits your lungs! This water pipe makes for an awesome center piece and is guaranteed to be the talk of every party it's at. IT'S A TORNADO! It features a standard 18mm female joint and is made from clear scientific glass.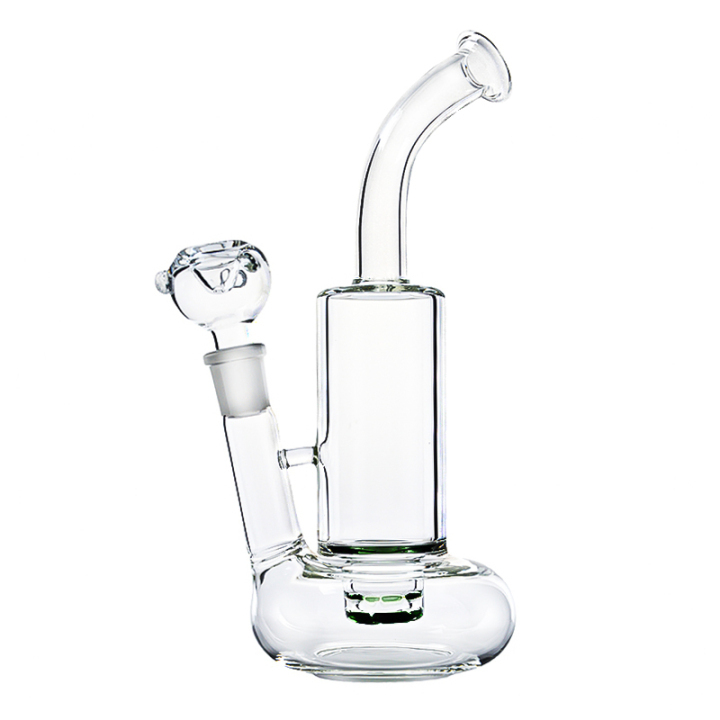 We know that everyone's budget is different, and we
try our best to design and produce exclusive selection of cool bongs at
the lowest pricies for shoppers looking for their next
glass bong for sale
. If you don't get your favorite bong piece from the above 4 cheap water pipes,then just go to browse our selection of
bongs under $50
.
One thing I am sure you will get a cool cheap bong for yourself here.