WD420 GLASS
Best Big 360 Degree Rotating Gravity Bong Flip Hourglass Spinning Hookah Pipe
Description
Best Big 360 Degree Rotating Gravity Bong Flip Hourglass Spinning Pill Hookah Pipe




WD420 Glass is proud to introduce this awesome

Gravity Hookah

, a sophisticated and elegantly designed

360° rotating gravity bong

, activated by kinetic energy generated by cascading water displacement, reverse airflow technology and natural gravity. The Gravity Hookah is made of the highest quality materials, including borosilicate glass spheres and aerospace-grade anodized aluminum, for an immersive experience while providing smooth, consistent and vaporous draws.




Designed for versatility, This Gravity Bong Flip

is a complete set, including an aluminum hookah set and a glass bowl, but it can also be connected to any smoking or vaporizing device through a 14 mm male connector. A 3-foot-long silicone hose is included, which can be connected for direct draws, but the stable smoke flow through the 45° adjustable mouthpiece provides a completely non-contact consumption option.

The height of this Gravity Hookah(for sale) is 15 inch, so it's also a very

big bong

, using a patented design, provides a 10-year extended warranty*, and is packaged in a reusable craft box with handles for safe storage and transportation. The Gravity Hookah is super durable, advanced in design, and excellent in function. It is the pinnacle of smoking and vaporization equipment.

If you are a veteran stoner or you are already tired of the traditional glass bong, this one will be your

best water pipe

for daily driver!



How does the gravity bong flip work?

The operational principle of the 360 degree gravity bong is very simple. Only when you make the gravity bong filted with water and heated coals, the bong will force the heat onto the herbs and vaporize it for inhalation.



How to clean the

Hourglass Spinning Hookah Pipe?

Like other glass water pipes, the hourglass spinning hookah pipe is very easy to clean. You just need to pour the isopropy alcohol into one ball, reconnect the other ball, and flip the hookah pipe until the balls are coated with the solution. Also, if you want to give the waterpipe a deeper clean, you can detache all the parts and clean them one by one.



More Details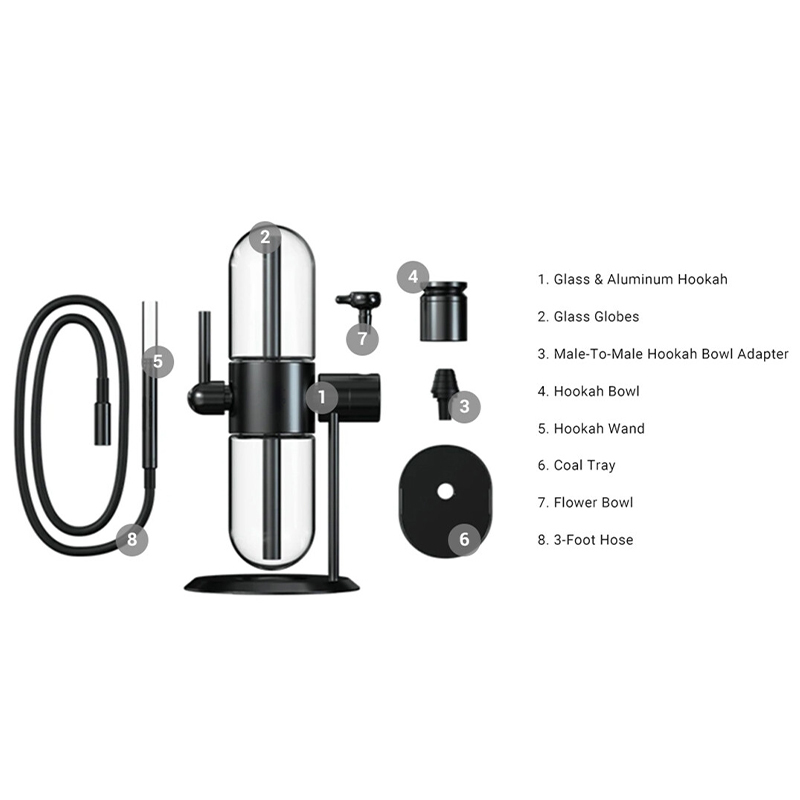 What's included:

1*Glass Globes,1*Glass & Aluminum Hookah,1*Male-To-Male Hookah Bowl Adapter,1*Hookah Bowl,1*Hookah Wand,1*Coal Tray,1*Flower Bowl,1*3-Foot Hose
color:

Black
Net Weight:

6500g
Height:

38cm/15''
Width:

20cm/7.87''
Diameter:

18cm/7.09''
By
abarre
Wednesday, 24 November 2021
Time manner. Great product
By
Richard
Wednesday, 17 November 2021
By
Colton
Tuesday, 16 November 2021
Very satisfied. High quality.
By
Sarah
Friday, 12 November 2021
Very satisfied! Good price and product!
By
Cassity
Tuesday, 02 November 2021
The best hookah I've ever used! Thank you
By
Jonathan
Friday, 22 October 2021
Really dope piece for the price, can't beat it!